Valet System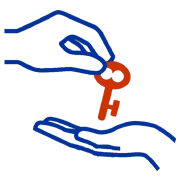 Share access to a Seizure Tracker basic user account to one or more management accounts. Valet key can easily be created and shared via an email invite from the SeizureTracker.com user interface. Access levels can be determined per each available tool including recording seizures.
Valet system features:
Share a valet key with an unlimited number of management accounts
Set individual access per key
Access multiple basic user account through one management account
Log data (when access given to tools)
Create reports
And much more!
Applications
Create
or your Seizure Tracker account and activate the valet system through your account settings page. Start sharing valet keys!